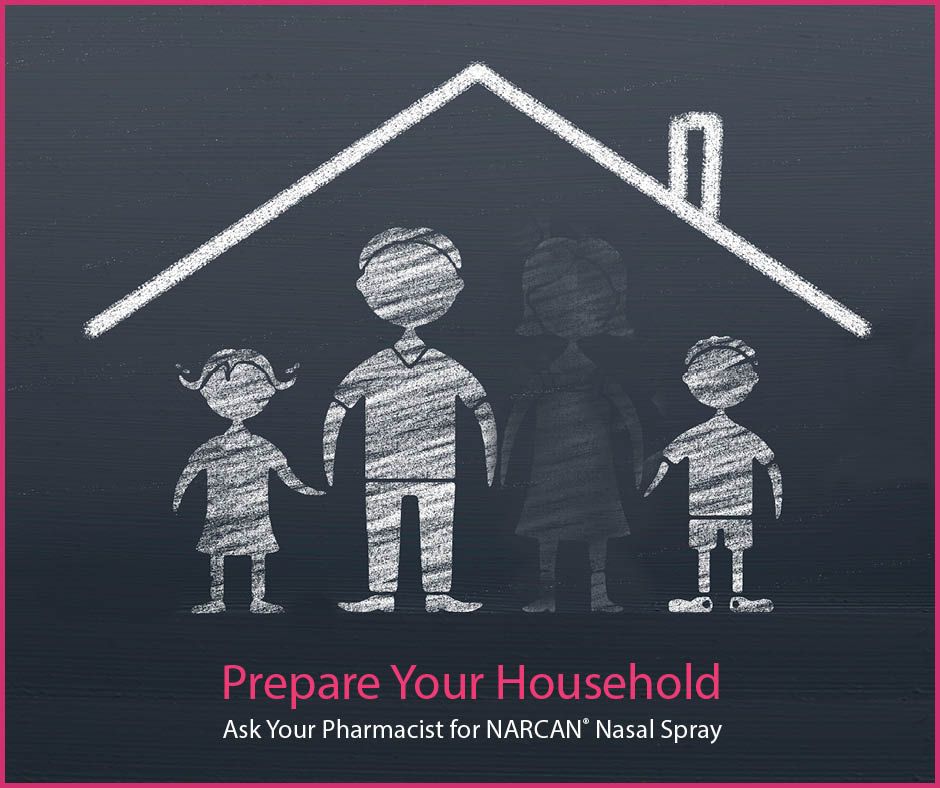 Sumpter Pharmacy is committed to savings lives!
Life-threatening, accidental misuse of opioids has reached epidemic proportions.

83% of prescription opioid overdose fatalities were unintentional.  Anyone who takes a prescription opioid could be at risk for an overdoes.
Free Narcan® nasal kits for overdose prevention given with every Opioid prescription.  Or stop by for your free kit.
(Must be at least 18 years of age.)
What Are Opioids?
Opioids are medications (e.g., hydrocodone, morphine, codeine, methadone, oxycodone, hydrocodone, fentanyl, and buprenorphine) that reduce feelings of pain by attaching to pain receptors in the body.

Opioid overdose can occur when a patient misunderstands the directions for use, accidentally takes an extra does, takes other medications or alcohol at the same time, or deliberately misuses a prescription opioid or an illicit drug such as heroin.
What Is Naloxone?
Naloxone (such as Narcan®) is a prescription medication that can reverse an overdose that is caused by an opioid drug.  When administered during an overdose, nalaxone blocks the effects of opioids on the brain and restores breathing.  It can be given as an injection into a muscle or as a nasal spray.
Naloxone has no potential for abuse.  If it is given to a person who is not experiencing an opioid overdose, side effects are rare.  If naloxone is administered to a person who is experiencing an opioid overdose, it can produce withdrawal symptoms.  Naloxone does not reverse overdoses that are caused by non-opioid drugs.  See
Narcan
 or
Iowa Department of Public Health
for additional information.
Those at risk of an accidental opioid overdose emergency include patients who:
✓
Take prescription opioids in higher doses (≥50 morphine milligram equivalents [MMEs]/day)
✓
Take opioids with benzodiazepines or with sedating substances, like alcohol.
✓
Have opioids in the home and have other household members or close contacts, including children, at risk for accidental ingestion or opioid overdose emergency.
✓
Take prescription opioids and have other medical conditions (HIV, liver disease, lung disease, or mental illness).
✓
Have prior history of overdose.
✓
Have opioid use disorder.
✓
Are using illicit opioids and other drugs that might be mixed with illicitly manufactured fentanyl.
An overdose is a MEDICAL EMERGENCY!
Call 9-1-1 immediately!